Welcome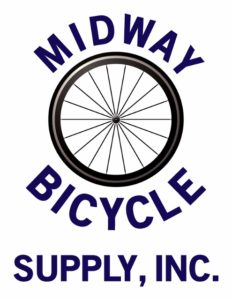 Midway Bicycle Supply is a bicycle parts wholesaler, so we only sell to bicycle shops, or other bicycle businesses. If you have a shop or bicycle business and would like to order from us please give us a call 651-955-1930 or send an email to info@midwaybike.com, or a letter to Midway Bicycle Supply, 506 N Prior Ave, St Paul MN 55104. You can also fill out an application on the website or print one out and mail it in, just select the Dealer Application from the menu.
Shipping is now to be determined, we will pay shipping on orders of $400 or more excluding wheels and non-folding tires 26 inch or larger.
We have moved new old stock and one off categories to the bottom of the category list.
Showing 1–12 of 2147 results